Dusja .NET -
Thank you thank you - 14 June 07 - 10:22

I cannot tell you how I've managed it, but our stocks are over 100€ currently.... now that's something good. Especially after the whole change of management issue.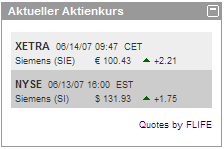 p.s. If only I had a lot of those, then it would be very nice!
http://www.dusja.net/pivot/entry.php?id=1174
© 2006-2020 Paul-Robert Archibald