Arrived in Bangkok
08:11 | damen

Thailand

No comments
After a long flight we finally arrived in Bangkok the other night.

Friday, November 2nd
Even though we prepared quite well we still got a little bit of stress on Friday because Martijn needed to get his pants fixed (he only got one pair of travel pants and it contained a hole) and somehow the only shop who could do that so quick was in Langwasser. But in the end we managed to get on the train in time and were on the way to Frankfurt International Airport.

In Frankfurt we were amazed, because we could check in our luggage almost directly within the train station, which saved us walking with the backpacks through the whole airport. But somehow the new Terminal is still quite a big construction site, the part where Ethihad was looked nice but not finished



The flight itself was very good, our travel agent somehow already booked the best seats in the plane and we managed it without too much stiffness to Abu Dhabi. There the airport was amazingly small, it contained of a kind of big Dome in the middle with all the gates organized around it. Martijn insisted on looking outside for a small bar to drink something, but there was not much there. But still, we went through customs and were outside in Abu Dhabi for about 10 minutes, after which we went in again (Yeah, Martijn just wanted to have the stamp in his passport!).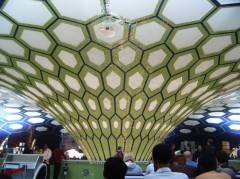 Saturday, November 3rd
The flight onward to Bangkok was also ok, but then it started to get a long trip. We arrived in Bangkok with a little delay around 7pm and decided to take a cab back to the hotel. Ok, it costs more than taking the air con bus, but it was nice to get in the Hotel quickly, get the bags of our shoulders and most important a shower


After we got fresh again we went into town, ok, not the real town but the surreal Khao San Road, which is just outside our Hotel. Manu still got to get used a bit that you don't need to bring your coat for an evening strall, and Martijn got indulged in the
memories of 2001
.
We did most of it

We had Pad Thai noodles from a street booth, fresh Pineapple, fresh fruit juices and a Massage in the Massage booth known to insiders (Ronald, that one!). And it was clear again that you can spend your vacation on Khao San Road, enjoy it and never see anything of Thailand. After that we finally, even with the jet lag, were so tired that we went back to the Hotel and slept. Breakfast until 9:30am, so it was good to be in Bed around 11:30pm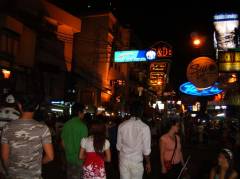 Sunday, November 4th
Forget breakfast, we slept until 12:30 pm and then had to go to KSR for breakfast, which we did. In the Internet cafe we are writing this and got our confirmation for our Mountain Resort Hotel. If you take a look at our travel plan you'll see that we want to spend 4 nights in the mountains near Krabi from the 10th till the 13th of November. We just got message that we got a Room in the
Phanom Bencha Mountain Resort
. They wrote it was still a bit wet over there, but we'll manage and see what kind of trekking tours we'll do. Now we have to find a travel agent to provide us with train tickets on the night train to Chiang Mai.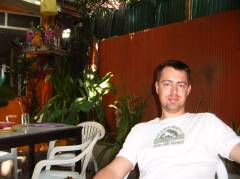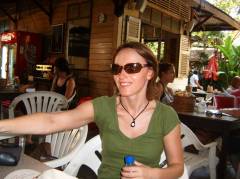 Any tips for Chiang Mai? Let us know in the comments!