Ayutthaya
07:51 | damen

Thailand

No comments
November 6th
Today we went to the city of Ayutthaya, two hours by (slow) train from Bangkok and famous for it's temple ruins. We checked out quite early and got the normal train at 9h25, for the amazing price of 15 Bath per person. To get the feeling, we also bought some fresh fruit at the train station, which was 20 bath each for pineapple and papaya

After arriving in Ayutthaya after a good 2 hours we left our bagpacks at the station (every station has a cloak room and they are quite cheap and safe) and walked into the town. Even though we were warned it was amazingly hot and we first needed a break before entering the first temple grounds.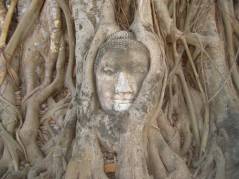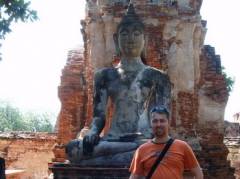 After a meal and freshly pressed juice we were ready and visited the first temple, where the famous image of the Buddha head in a tree can be seen. It was really amazing, so many (mostly damaged) stone buddhas were there. After this we took a TukTuk to a second temple, where they have a gigantic statue of Buddha, you'll see it later on the photo. We also visited the ruins where the remains of three kings are kept, all under very big grave monuments.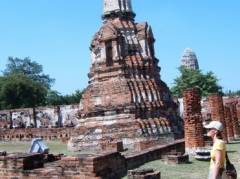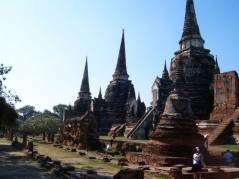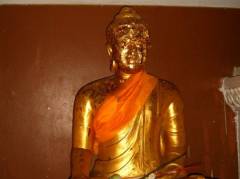 The last temple we visited was the one with the lying Buddha, which is about 15 meters long and rests on a Lotus. Impressive sights, I can tell you that.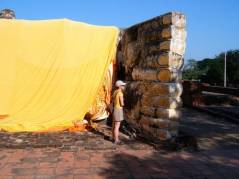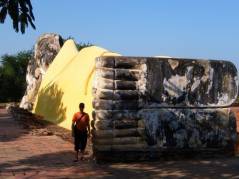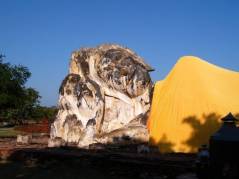 The last thing we did in Ayutthaya was a boat tour around the city, which gave us a good view on the surrounding temples and how people live. The night bazaar was then the right place to have a good meal, and we both enjoyed our Noodle Soup very much. We were joined by some other tourists and had a nice chat, until we left for the stration to pick up our bags and continue the trip to Chiang Mai.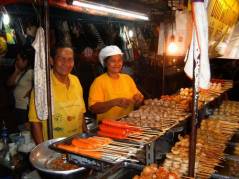 For this we took the night train, which was actually quite comfortable, but the airconditioning was again too much, so that we actually froze during the trip. But we managed to survive and made if safely to Chiang Mai.
November 7th
After arriving in Chiang Mai we checked into our guesthouse "Smile Guesthouse" and took an hour or so to relax, enjoy the pool and read a bit. Then we gave our laundery to the house lady, shortly after which Martijn discovered that all his shirts were now gone

So this meant going into town and buy a t-shirt

Our guesthouse is actually very nice, we are having great luck with picking the places where we stay so far. The Smile Guesthouse has a pool, which offers a refreshing dip and our room is directly next to the pool. Also they have a nice terras where you can chill, read your book and enjoy a fresh fruit juice.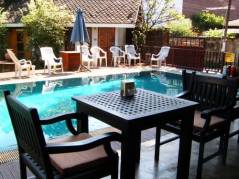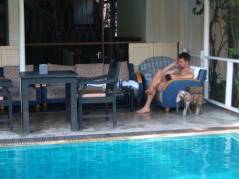 We took a room with aircon, but the nights here in Chiang Mai are so lovely cool that we really do not need it. Therefore we paid 700Bath a night, about 15 Euro. Next time we're here (yes, we are already sure we will come back) we'll take a normal fan room for 400Bath, so we can spend the money on the delicious food