Chiang Mai second day
06:14 | damen

Thailand

No comments
After we returned from the trekking tour we were quite tired and kept the afternoon near the pool in the guesthouse relaxing a bit.

In the evening we visited the famous night bazaar, but somehow it was not really that much fun, but we did found a shop with some beautifull temple dancer figures carved out of wood... We got a quick bite and then went home.

The last day in Chiang may was planned for doing a biking tour, but we were both quite tired and decided against it. Then we just enjoyed the time near the pool, and after breakfast we went into town again and bought the two dancing figures we found the day before. After packing them very well and sending them home we finally got our Thai present for Christmas.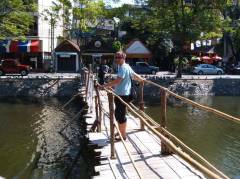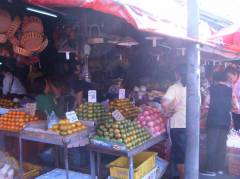 In the afternoon we had to leave already and took the night train back to Bangkok, this time it was much better with the airconditioning

We also had a small meal in the train, amazingly good and that was true luxery: