Chiang Mai to Krabi
06:35 | damen

Thailand

No comments
This time we really had a very good ride in the train, exactly what you can expect when travelling first class

We got our wake up call somewhere around 5:30 am and shortly afterward we received our cup of coffee to get up and awake. The train did arrive in Bangkok really good in time, so we were at the train station Hualamphong around 7am. This allowed us to do some travelling in Bangkok, and we decided to take the new subway and the sky train to see a bit of the city. Therefore we dropped of our bags at the left luggage cloak room, and were unpleasently suprised by the fact that they did not want 10bath a piece but 50, somehow referencing to a non-official looking paper telling us it had changed. As the prices on the wall were still the old prices I still don't believe them, but there was no way to argue and also 50bath a piece isn't worth the anger and discussion.

After this we took the new metro of Bangkok to get onto the sky train, and we were quite suprised because the subway is really empty, and costs a lot compared to the rest in Thailand. Funny enough they have the driverless system we are still trying to get working in Nuremberg

Good work Siemens


We soon decided that both the subway and the sky train were much too cold and got out somewhere behind the Victoria Monument, for breakfast and coffee. Amazingly the coffee is much better in Thailand than I remembered, it seems that since 2001 they all switched from nescafe to great coffee houses.

After the small breakfast we went to the river again to take a express boat to Tha Ratchawong, the pier where Chinatown is starting. And ok, just to get things straight: Chinatown in Bangkok is just way too busy, filthy and busy busy busy to enjoy it. Martijn did enjoyed a great noodle soup there, but we soon fled the place and after discovering a very nice temple that for once was not in the LP we went back to the train station to pick up our stuff and (so we thought) get the train to Don Muang Airport. One bad thing that happened is that our camera started to act funny during our walk through China Town, we thought it was just the batteries, but it did not respond anymore at all. bad bad news!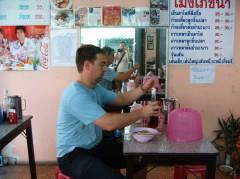 After we bought a train ticket we just missed the train of 11h40, and the next one was due to leave at 12h45. because it was an hours ride with the train we decided that we did not want to take the risk and miss our flight, so we took a taxi meter and drove to the airport. Ok, we could easily have made it with the train, but who takes the risk when flying to one of the best beach areas in the world

After we got to Krabi we got picked up by the resort and finally arrived there. It is just great and lies back in the forest, lovely place. We seem to be the only guests, but that is ok.