Weekend and bachelor party
Monday : 07 Apr '08 - 08:50 | damen

default

three comments, already
We had a very quiet weekend for once, the only thing I had to do was talk about diving for our CMAS * diving course, which was really nice to do. We talked about first aid, stuff to know for diving on a boat or from shore and prepared our first open water dives (discussed how it will be).
After that the whole weekend was relaxed, I was able to watch two movies (Jumper and Vantage Point) and finish up with a lot of the lying-around-for-ages stuff.

Last weekend was not that relaxed, but therefore very much fun. On Friday I went directly from work to the airport and was around 7pm in Amsterdam, Schiphol. From there I took the train to Coen, where we enjoyed a glass of wine and prepared for the bachelor party of Joost. The next morning at 7am I gave Joost a call (luckily he was still sleeping) and told him to prepare some coffee for Steven... at first he didn't understand, but as soon as the door bell rang he knew what was coming :D :D

So he had to go to ..



will be continued.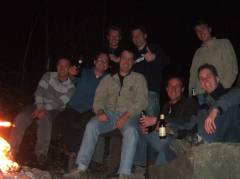 Eerste duikje is ook weer gemaakt: 7 graden, 10 meter, 30 min. En natuurlijk nat. Erg goed te doen, want er stond een lekker zonnetje. Bikkel van Vinkeveen: een jongetje van een jaar of 12 met 2×5 mm pak, geen handschoenen en gruwel zwembadvinnen. Zijn vader/instructeur zat er naast met een thermopak onder zijn droogpak en hele dikke handschoenen.
Nemo - 07 April '08 - 10:09
@ Nemo
Zo horen kleine %$#@#$ kinderen ook opgevoed te worden.
Ook grote broers mogen kleine broertjes zo behandelen.
Peter - 08 April '08 - 13:52
Hee! Ouders mogen geen partij kiezen. Jullie horen exact even veel van mij en mijn zus te houden.
Nemo - 09 April '08 - 14:22