Trogir
Thursday : 17 Jul '08 - 11:30 | damen

default

four comments, already
We found a nice spot in Trogir, about 25 km west of Split.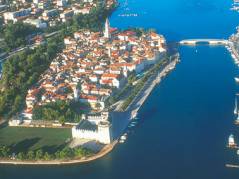 http://www.trogirdivingcenter.com/
update:
Life is still good here, we decided to stay on
this camping place (link)
and the dives were also good (43min, 33m and 63min, 26m).
Nemo - 17 July '08 - 16:09
Ziet er mooi uit. Toch wel fijn dat je 9 weken per jaar voor dit soort leuke dingen hebt

Peter - 18 July '08 - 09:47
Heyhoi, dat ziet er erg fijn uit!! Veel plezier nog!
Tanja - 22 July '08 - 10:14
Hey zus,
Lekker aan het duiken dus.. Ik heb mijn motorrijbewijs vanochtend gehaald! In één keer geslaagd

Dus errug blij! Geniet!
Nemo - 22 July '08 - 16:11